Apartment
Jaffa-Tel-Aviv
100 sqm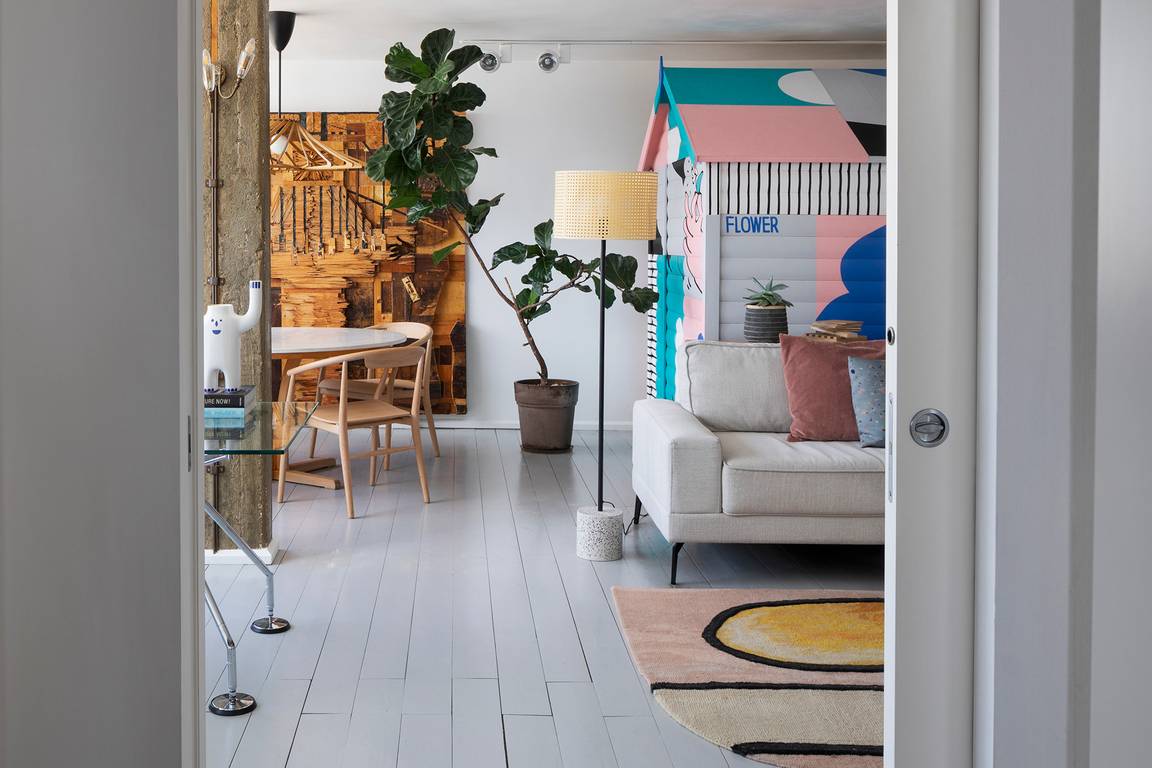 "This 100 m2 flat is located in a concrete building from the 1960s in Jaffa, south of Tel Aviv. From that 12th floor there are impressive views of the city with the Mediterranean Sea in the background. It originally contained three long, narrow rooms, but was completely renovated and is now an open, contemporary apartment."
AD Spain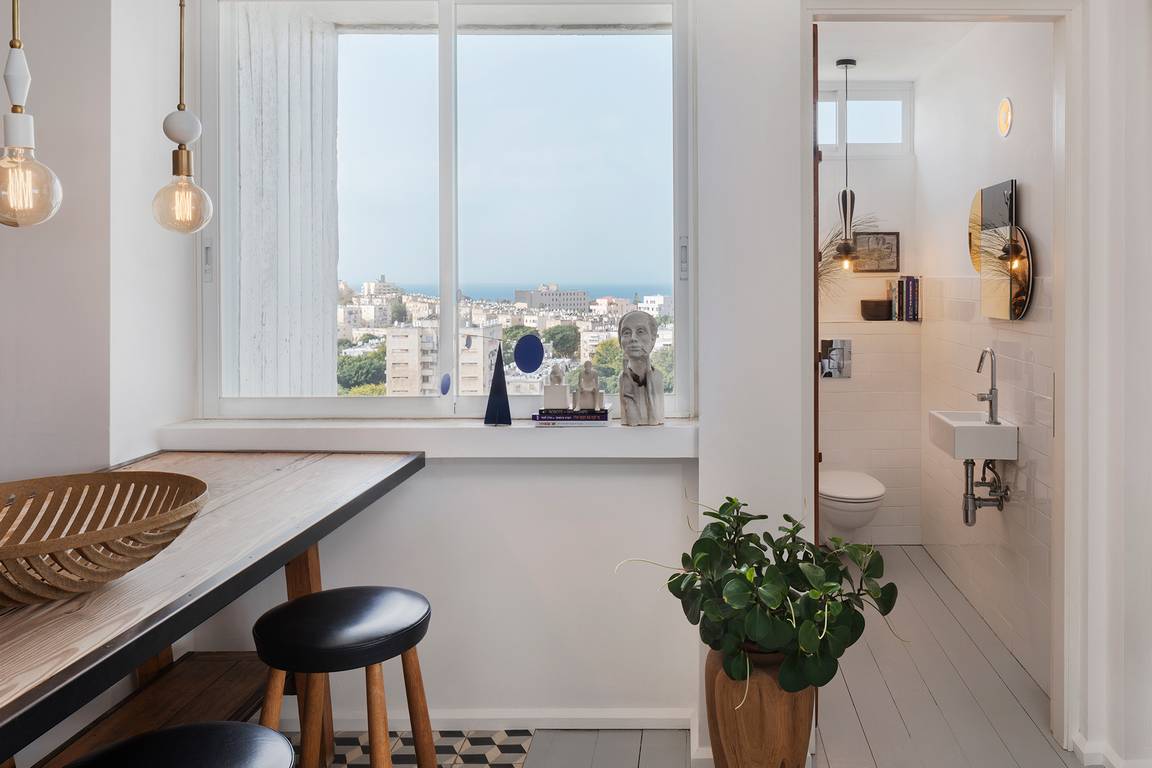 "The bedroom and bathroom are closed with light pine doors, which were removed from the building built in the 1920s. The apartment is decorated with original ceramics (vases in the kitchen, a sculpture of a pensive man on open kitchen shelves, vases in the work corner). A midcentury modern chest of drawers, a carpet by Faye Toogood and amphoras by Bosa Ceramiche steal the attention."
ELLE DECORATION Poland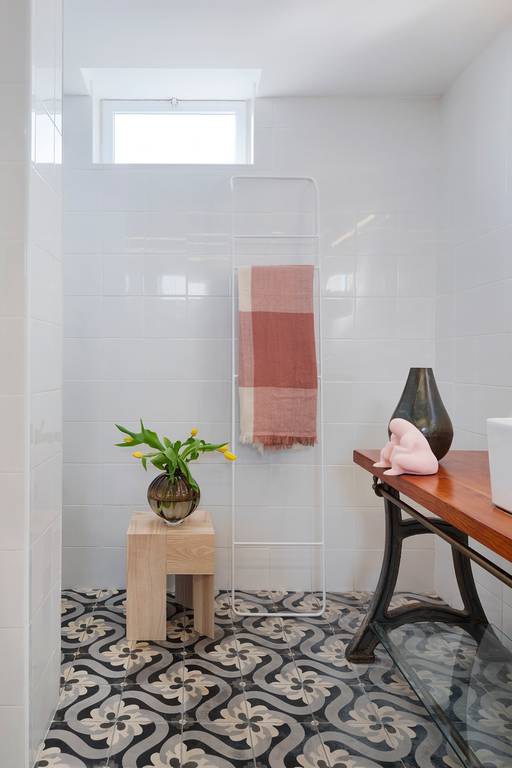 "Accents in the decoration here are pointwise: the floor in the kitchen is covered with decorative tiles that separate this part of the apartment from the rest. The same applies to the floor in the bathroom, where flowers suddenly bloom on the tiles of the same color scheme as in the kitchen."
AD Russia
"While the shed is undoubtedly a highlight, the apartment overall—where sweeping views of the Mediterranean serve as a backdrop for standout vintage pieces by Louis Poulson and Antonio Citterio, as well as contemporary finds by Norman Foster, Faye Toogood, and Tom Dixon—makes a big impact considering the modest footprint. Local architects Zohar Shavit and Irit Henkin of Henkin Shavit smartly configured the layout to create an expansive effect and still offer functional, family-friendly zones that flow together."
domino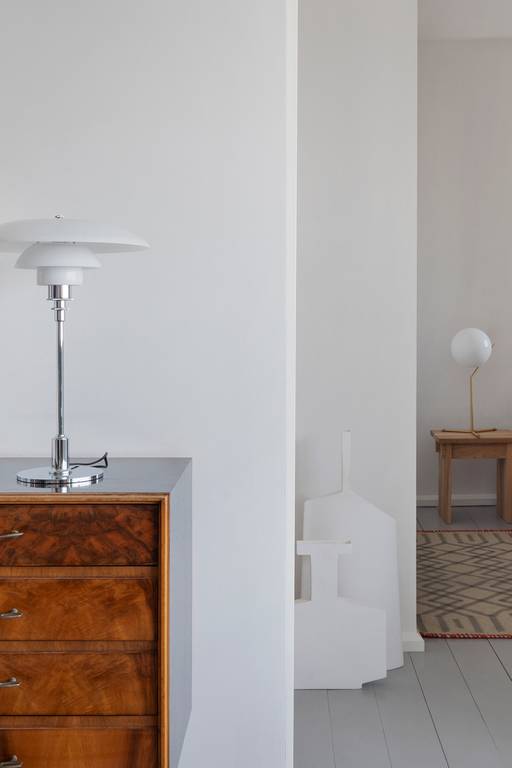 "To finish the decor, the architects bet on contemporary and modern furniture and an art curation full of color and grace, which adds even more personality to the apartment."
CASA VOGUE BRAZIL
"The joy that the home emanates does not come from the use of colour, but a sense of whimsy. The living room is dominated by a white and natural-wood palette, casting a pristine presence against the luminous window scheme beyond. A circular, light-wood table casually anchors the dining realm to one side in a seamless, almost incidental manner. The effect is one of ease, like the house is held together by magic."
AD India
"What used to be a long, narrow three-room apartment built in the 1960s has become a large and airy open space with two distinct and diverse spaces. From the entrance opens a large living area, kitchen and study. In the center stands the wooden house intended as a children's room."
ELLE DECOR Italy
A couple, parents to twins, bought an apartment in a building made of concrete from the 1960s, on the 12th floor, overlooking the Mediterranean Sea and the amazing urban landscape of Jaffa-Tel Aviv. The apartment, which extends over about 100 square meters, originally contained three long narrow rooms, was renovated to be a contemporary open space.
The apartment is divided into two main spaces: the first is a large space for the living room, kitchen, spacious work area and children's room. The second is for the bedroom, bathroom and guest bathroom. The children's room is designed as an iconic wood house, which is a graphic sculptural element and maintains the principle of the open space.
The construction pillar in the living room helps to define the various spaces and separates the living room from the work area. The original terrazzo floor tiles were removed, and replaced with pine panels in light-grey. The grayish hue of the surface blends in with the grayness of the winter sky.
The kitchen floor is made of illustrated concrete tiles, which differentiate it from the rest of the apartment. The living room has a large library of industrial metal profiles. The bedroom and bathroom are enclosed by doors made of clear pine, which were dismantled from a building built in the 1920s. The doors were renovated and fitted with "Grandma's Glass" windows. A wide white sliding door is differentiating the bedroom from the public space. The bathroom floor is made of illustrated concrete tiles in a pattern specially designed for a Cuban-inspired project.