Apartment
Tel-Aviv
110 sqm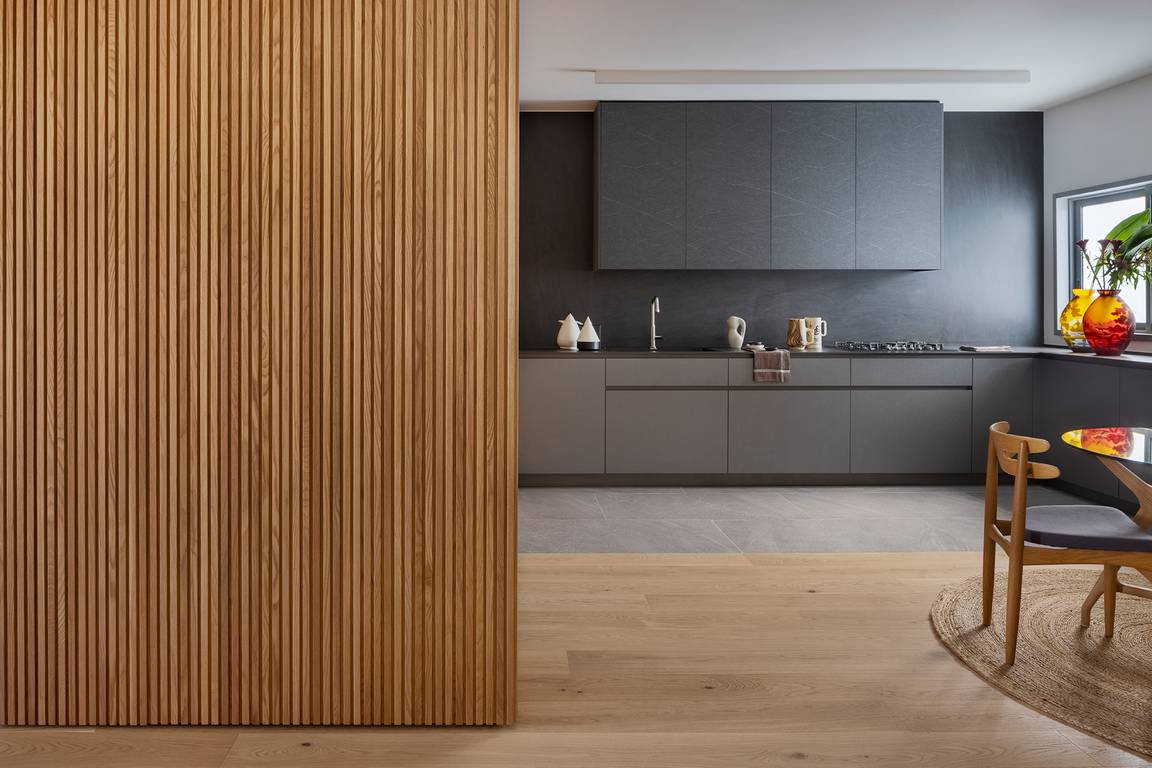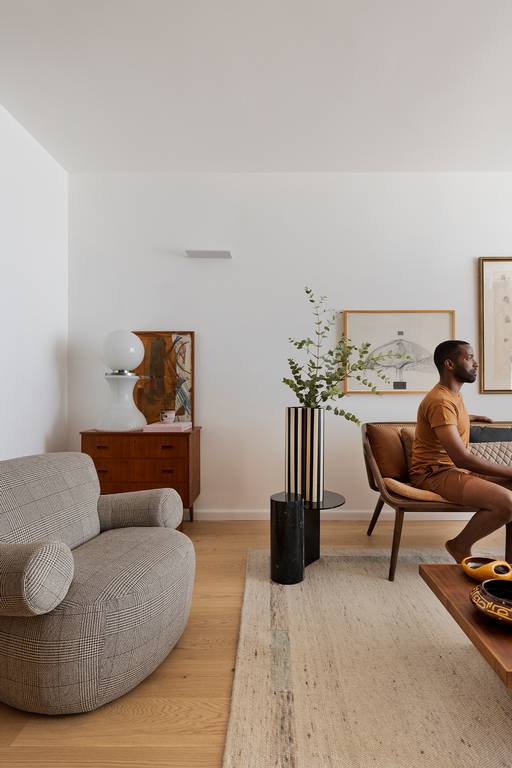 "Outside is Tel Aviv , the Israeli city is one of the busiest in the Middle East and Mediterranean coast. But inside this apartment, a peaceful oasis balances materials and solutions. A nest for a couple to restore peace and energies, as they wanted. Oak and gray granite make up the peaceful base that welcomes them, promoted by an immersive project by Henkin Shavit Studio."
CASA VOGUE BRAZIL
"The vertically grooved oak wood is deployed as a unified puzzle. This element is in the kitchen wall cover and recreates itself as a double partition between the bedroom and the living room. The partition includes a secret aisle door to the quietest corner of the apartment—the primary bedroom."
ELLE DECOR India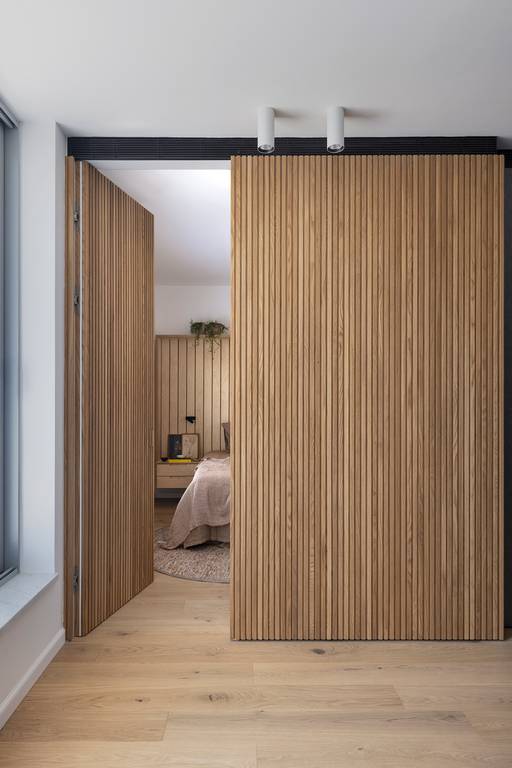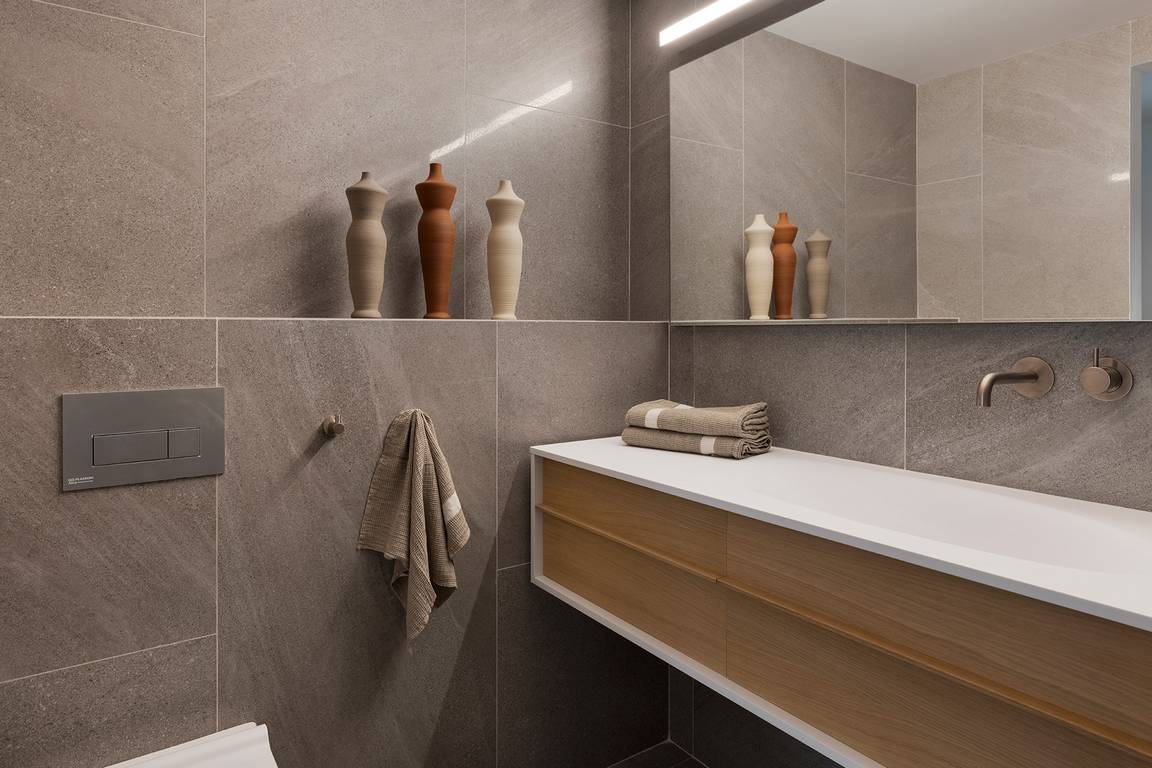 "Warm timbers can be found throughout the interior, creating a cocooning feel. At places, oak wood panelling features vertical grooves, creating a rhythm but also a sense of verticality that highlights the tall ceilings."
Wallpaper
"For the living space, a 2/3 size rug was chosen. It delimits and defines the entire space furniture – handmade "piazza" rug, made by the German brand "Puling Rugs", which continues the light natural oak parquet shades and cover the entire apartment space. A light sofa with a straw braid and next to it armchairs from the 1930's wrap around the natural stone and wood table."
walla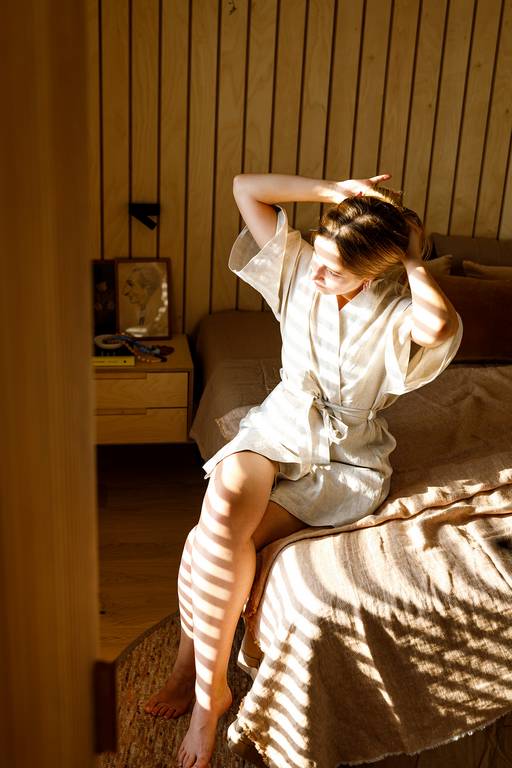 "With the first step into the threshold, a sedate living area comes into view. A diaphanous sofa in shades of brown and straw putty colligates with svelte Le Corbusier armchairs—model LC 1 from the 1930s. A wood centre table strengthens the contemporary narrative and nods to modernity with its part-stone top."
ELLE DECOR India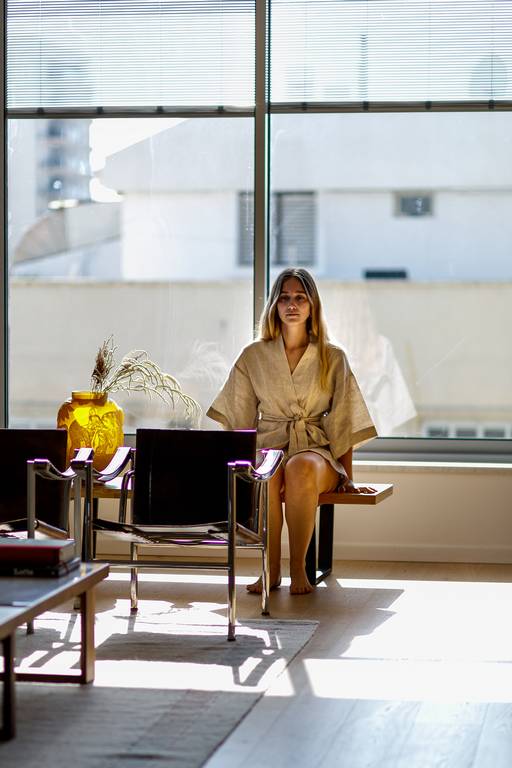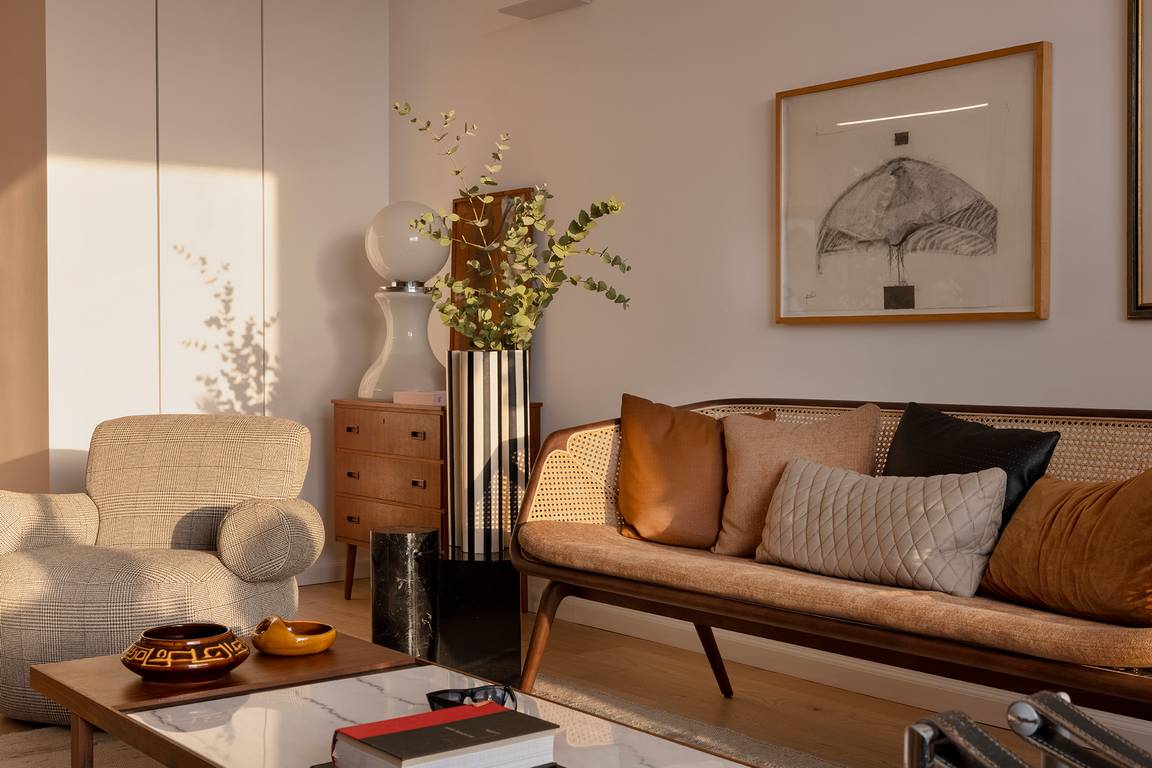 In the heart of Tel Aviv, a city that never sleeps, there is an asylum of tranquil nature, creating a bubble of utopia, an opportunity to slow down and relax.
Henkin Shavit Studio stands behind the planning of a quiet temple, according to the request of their senior clients. A dreamy place simulating an oasis has been created. This living space emphasizes the idea of detaching a busy outdoor, culturally dense, colorful and restless world into a natural atmosphere of a still monochrome environment indoors.
The updated plan referred to the existing apartment as a box that wraps with its outer walls an inner box which, again, creates the feeling of detachment, gently using the element of wood partitions. That deciphers the optimal functions of the apartment design. The specific detachment concept is expressed in the coherence between connection and disconnection of two natural materials – oak tree and grey stone.
The complicated carpentry work consists of material separation, which creates a new vertical rhythm, unified and calming. The vertically grooved oak wood is used like a unified puzzle, it's pieces separately complementing each other into a whole piece. This element is seen as the kitchen wall cover and recreates itself as a double partition between the bedroom and the living room. This partition includes a secret aisle door, the magic entrance into the quietest corner of the apartment – the master bedroom. The duet of the warm materials countering the cold grey materials creates this temple of calmness, detached from the constant movement of the outer world.